Web Design Boosts Lead Generation By 37.3% For Tethys Energy

---
WATCH: Video Interview & Testimonial With Jason Fuller
---
Established in 2013, Tethys Energy is the top choice in Reading for all your solar power needs. This includes solar panels, maintenance, batteries, audits, and more. As a knowledge leader for the solar industry, Tethys Energy offers highly rated local and independent services to its valued customers.
Qualified Leads
Year on Year
Search Visibility
Year on Year
Organic Traffic
Year on Year
Learn how we helped our client improve their lead generation rates, website engagement and search engine visibility with SEO, copywriting and customer-focused design.
---
When Tethys Energy first contacted us, they had an out-of-date website that did not reflect them as a quality, professional service. In addition, the website copy - although factual - did nothing to hold visitors' attention or persuade them to invest in solar. It did not instil trust in the readers and had no obvious call to action or result that they wanted to achieve.
A design that lacked credibility
Their old website wasn't optimised for a good mobile experience and lacked a strong on-page SEO strategy. The overall experience for prospects was lacking and search engines couldn't get past the technical issues either.
Slow load times, layout errors and navigation problems were just a few core issues we uncovered. Prospects didn't engage and often left the site quickly. A poor user experience was affecting their opportunity to generate leads and needed to be fixed.
Poor user experience
In short, the website wasn't performing as it should. Their website lacked credibility and didn't portray them in the right light. Solar is a technology and therefore it was even more important to have a smooth, fast and well-designed website that showed how technology savvy Tethys Energy is.
As a result, they were struggling to persuade visitors to convert and their website wasn't generating any meaningful enquiries for new business.
Mobile call & email action footer
Content writing and editing
Local SEO - Search optimised
UX research and conversion mapping
FAQ's and supporting content
Enhanced security and support
Conversion tracking and attribution
Enhanced analytics and reporting
To overcome these challenges we worked with Tethys Energy to develop an effective website redesign plan that would address these issues.
First, we took the time to understand all the services they were offering and began researching keywords and topic ideas their potential customers were asking. We developed a strong, SEO focused site structure as a framework to build from.
After we had the strategy, we created relevant and engaging copy for every page of the site. This included a new FAQ section and persuasive calls to action that would help promote their services and instil trust in their readers. It was critical that we answered the 3 core questions within 3 seconds of landing on any page of the site…
What is this?
Is this for me?
Can I trust it?
Next, we designed mobile-focused pages that would make it easy for users to understand their core offering, navigate the page effectively and take the desired action (make an enquiry/call).
Speed, performance and security are critical to a website's success these days, so we optimised all code, images/media and layouts to load as fast as possible under any conditions.
Features like call buttons, pop-out lead forms and a user-friendly layout meant the website was action focused, without being pushy. The less friction a website creates for a user, the higher the conversion rate (and close rate for the business).
We analysed the data from the PPC campaigns we've been running for them. Looking at what messaging, keywords and landing page layouts were working best. We incorporated the highest performing elements into their website design for maximum impact.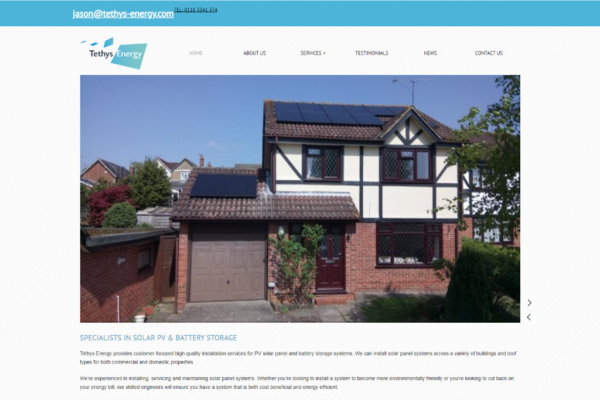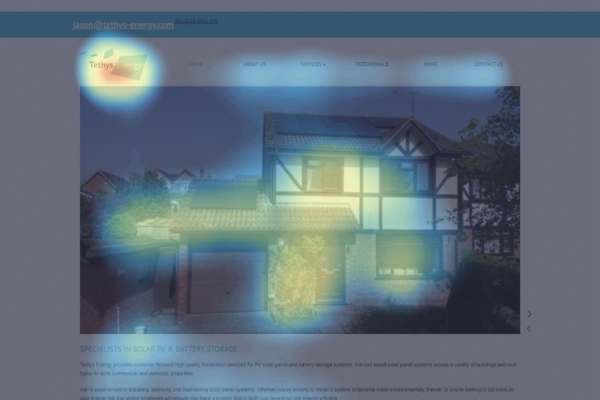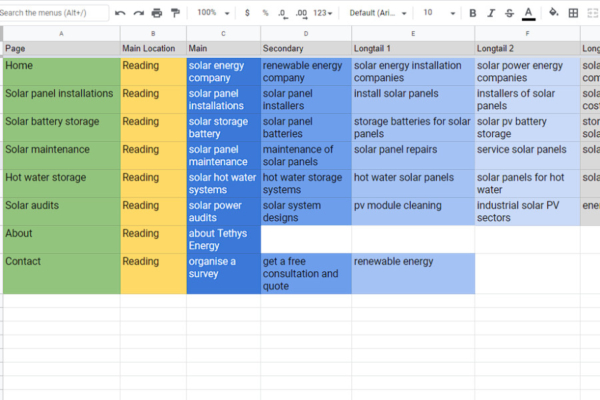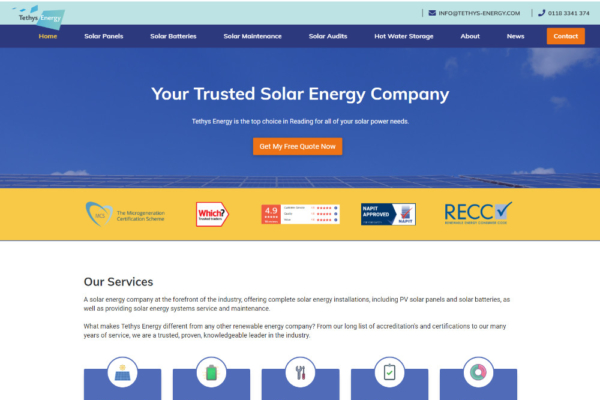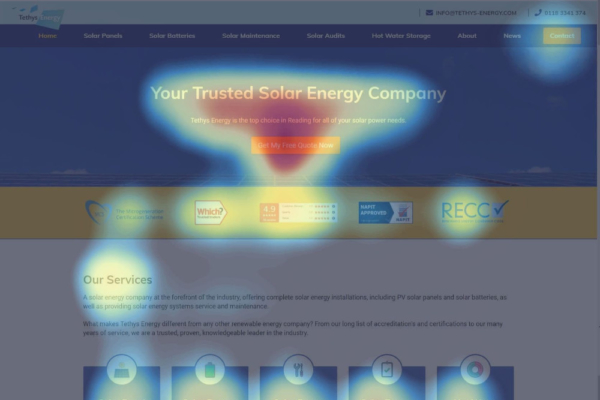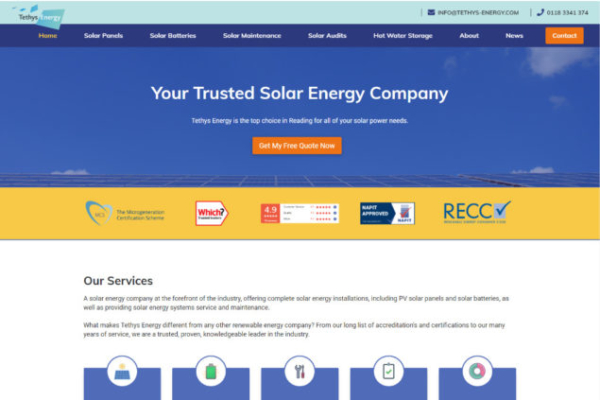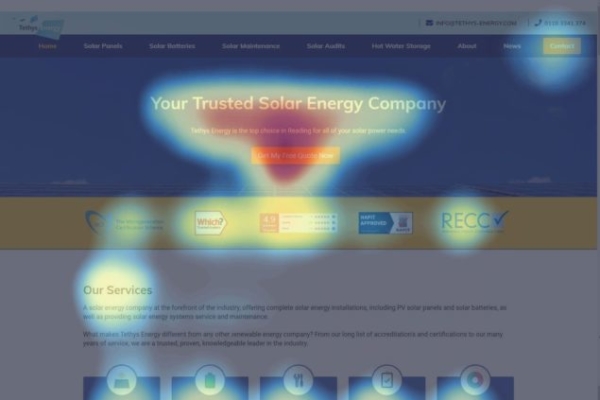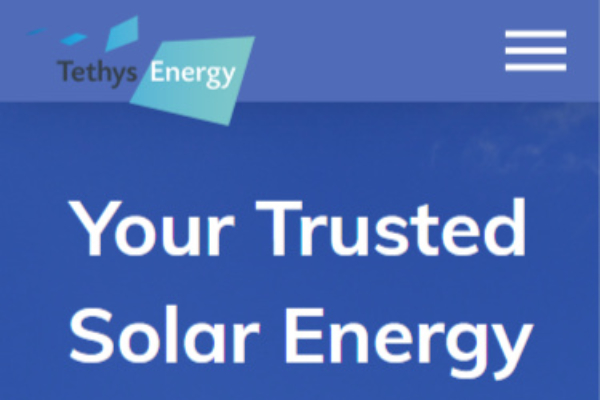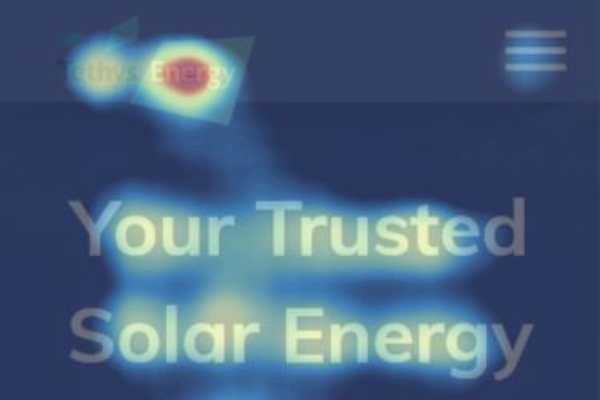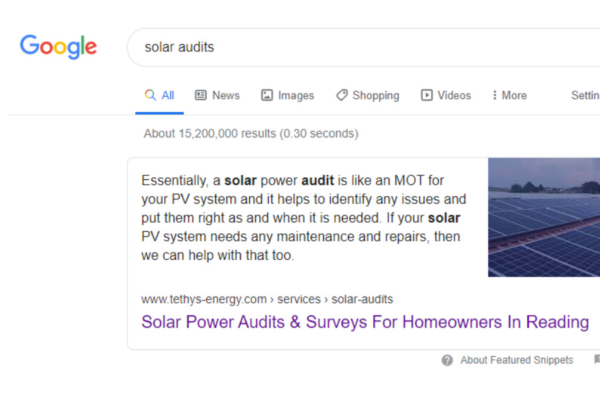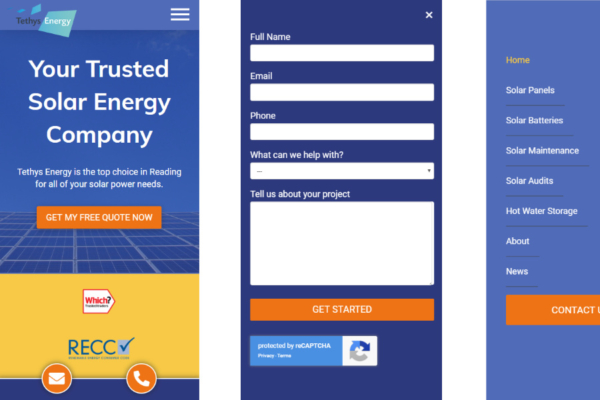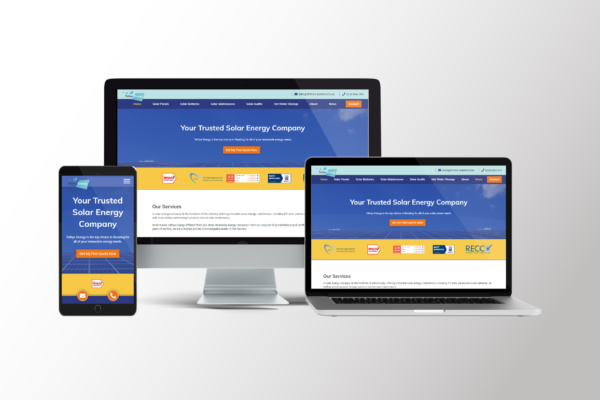 Our improvements had a great impact on the stickiness and engagement levels of the site as did the speed increases, usability and design changes. They resulted in a large session duration increase of 178.12% and an increase in page views per session by over three times 310.71%.
Measurable results
In addition, our efforts with on-page SEO had an almost immediate impact. Now, the website is enjoying a 247% increase in search engine visibility and a 465% increase in keyword indexation and is ready to grow. In a brief space of the time the new website is already seeing a significant increase in page one rankings on Google (from 7 to 39). Resulting organic visits from this page one visibility increased by 157%.
Trusted search features
Tethys Energy also captured a featured snippet for a competitive term just weeks after we made the changes, a significant trust factor for users before they even visit the site.
Continued growth
By attracting and pre-qualifying the right people, Tethys Energy is already seeing the ROI benefits. The website conversion rate increased by 143.45%, leading to a close rate increase of 37.32% and continues to climb.
Increase in qualified website leads.
Increased website conversion rate.
Search visibility increase.
Increase in session duration and engagement.
Increase in organic traffic from Google.
First page rankings on Google
Their new website is generating more qualified leads and helping them win valuable contracts. A solid ROI that continues to grow and more certainty for their business are just a few of the benefits Tethys Energy are seeing from their new website.
In fact, the changes were so successful that Tethys Energy is now planning further investment into their website. SEO and content marketing campaigns are being planned to focus on building authority in the local area.
Their business is also expanding, as their sales pipeline increases, and they are bringing on extra team members to improve the workload. The ROI from this website project has instilled the team with the confidence to expand their business further.
"After trying out a few other online marketing companies over the years and seeing poor results, I was hesitant to take the plunge a 3rd time. However, this time my experience has been amazing. Codarity have explained exactly what they are doing in an easy to understand way and results were immediate. I highly recommend them, they have been great for my business."
~ Jason Fuller ~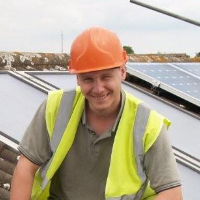 Do you want results like these?
Get in touch today to arrange a free consultation and find out how performance web design can benefit your business.