8 Search Engine Optimisation Tips To Grow Your Website Traffic Fast
Time:
10
Minutes well spent!
You probably don't want to hear this but SEO is hard
SEO. Seems like everyone offers it, salespeople lie about it, you've been overcharged for it and blogs make it sound easy or insanely complex. Maybe by this point, you feel like giving up or actually buying into the belief that SEO is a scam…
It's not an easy thing to achieve a successful result but the fact of the matter is, those websites that appear on page one for your search result get the lions share of the visits (traffic) and those sites in the 1st position get over 30% of the clicks and visitors. If you're sitting on page 2 you're getting about 0.7% of clicks for relevant searches so it really can pay dividends to get it right and do it legitimately.
Search engine optimisation is like being a gardener
Errr, what did you say? okay, hear me out, before you think I'm crazy.
You have to really tend to the roots for the flowers to flourish, then when the garden looks beautiful you have to keep caring for it.
Now the nutrients to grow such beautiful flowers requires a lot of fine balancing (search engine algorithms), too many spammy backlinks (weeds) will suffocate your site, if your site isn't mobile responsive (the correct pot size) then it won't adapt to its surroundings, if your garden isn't kept safe (SSL/https) then the caterpillars might get in and ruin your floral display (hacked). If you stuff your site with too much of one keyword (plant feed) it'll wither up pretty quickly and start to fade. There are a million and one metaphors that could be used, but the main point here is that SEO has many factors to account for and pitfalls to avoid in order to have a successful site (garden, okay I'll stop now).
---
1. Page title's & Meta that don't put you to sleep
Page titles are what show up in search engine results pages (that's SERP's if you're down with the marketing lingo). These are important as they're possibly the first thing a new visitor might ever see (or ignore). Are yours dull and boring, not useful, irrelevant or non-existent? Back to page 4 you go then, go on, back to page 4 of the results page and enjoy your 0.0002% of visitors who actually go there.
Back to our gardener's analogy and tell me which would you prefer to click on?

Or…

If you're not sure how to change these then talk to a (developer) about updating this area of your site. Depending on the platform will depend on how easy it is to change the page titles and meta description of your site.
Why not take a look at your page titles and see how you can rewrite them to be more enticing, interesting and clickable. If you don't overload the keywords but keep them relevant it can help you get better results in search engines too. This tool might help. (SERP tool)
---
2. Page structure, layout and hierarchy
Imagine being hit by a wall of text without any breaks, spacing, line height, or structure it might look like this and then you'd probably click away in a heart beat.
BAD example of text structure layout for web pages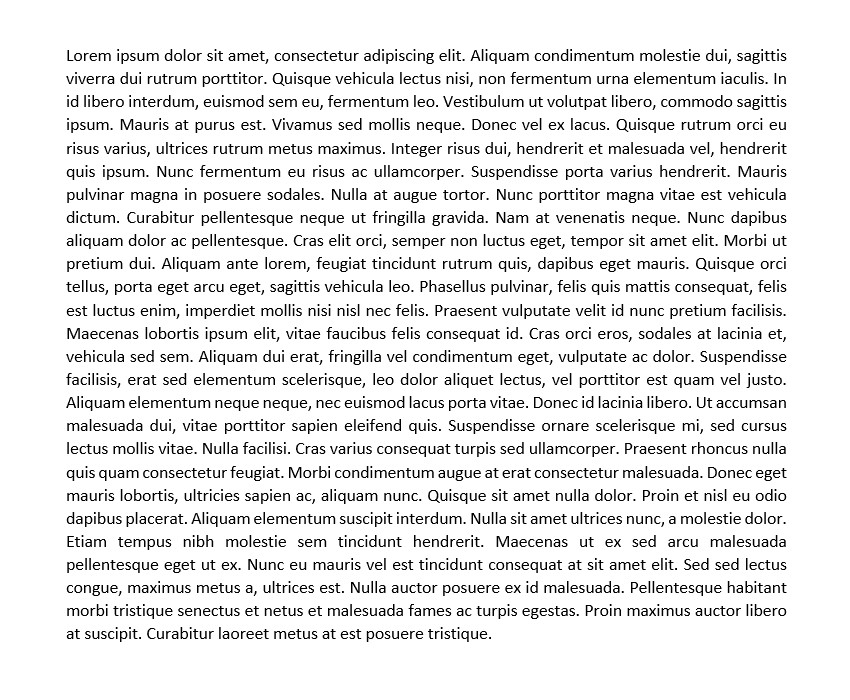 I know right? You'd probably look at this for 2 seconds get brain ache and then lose the will to start even trying to pick out important elements, naturally, this is bad for your visitors and bad for SEO bad for SEO too.
This blog post structure is an example of how to layout a page with headers and formatting that makes sense, is easy to read and works well for both humans and search engines too – Hopefully
GOOD example of text structure layout for web pages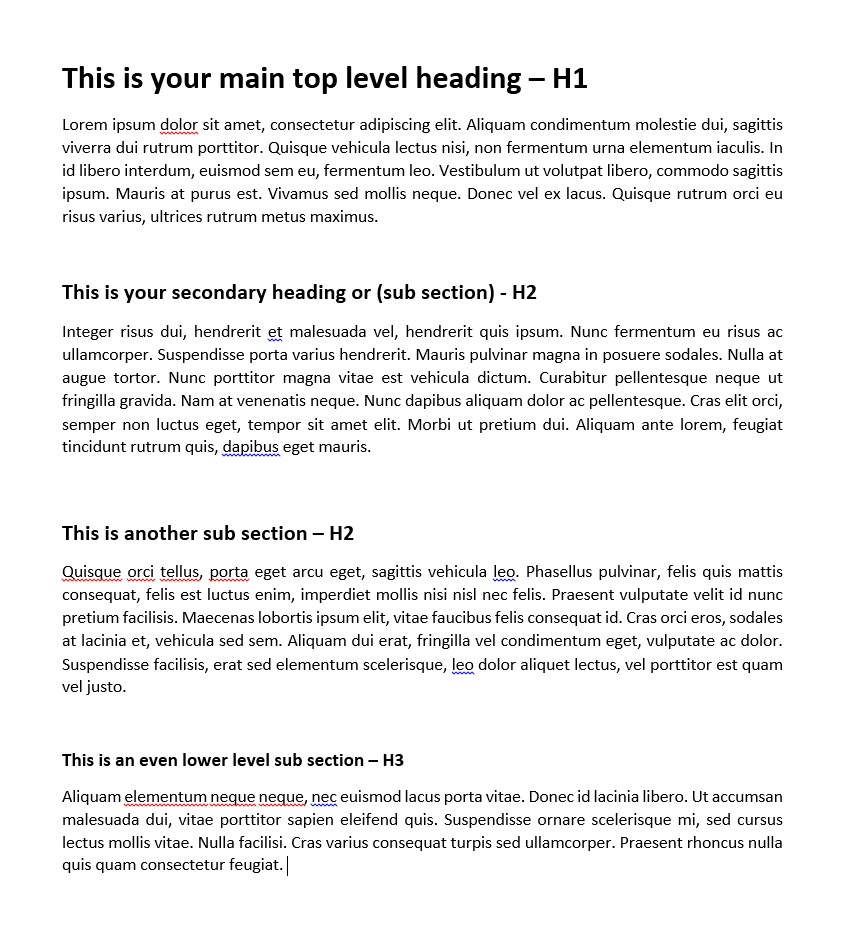 Headers & HTML Header Tags will help
Not only does a good page structure help your readers find what they're looking for quickly (people love to scan read), it'll also encourage them to stay for longer which will improve your engagement rate (Google likes it when people spend a long time on your site) by using headers such as the ones you've seen in this article it'll help readers get the information they need and also give your friendly search engine a bit of info about how your page is structured too.
If you don't know how to implement header tags, or you're not sure if yours are correct then follow this guide to check them and change them if needed.
To check if your header tags are correct, right click on your web page headers > inspect or inspect element >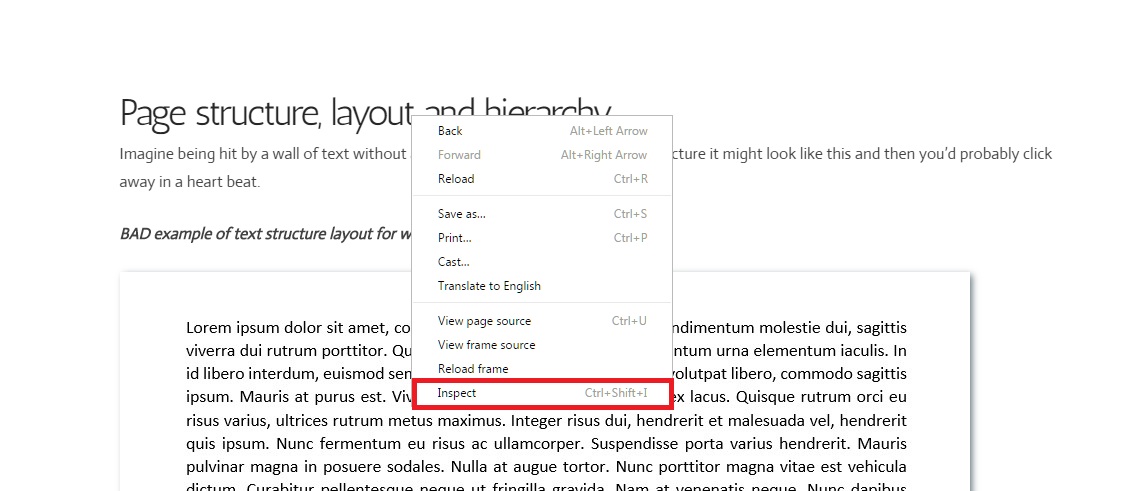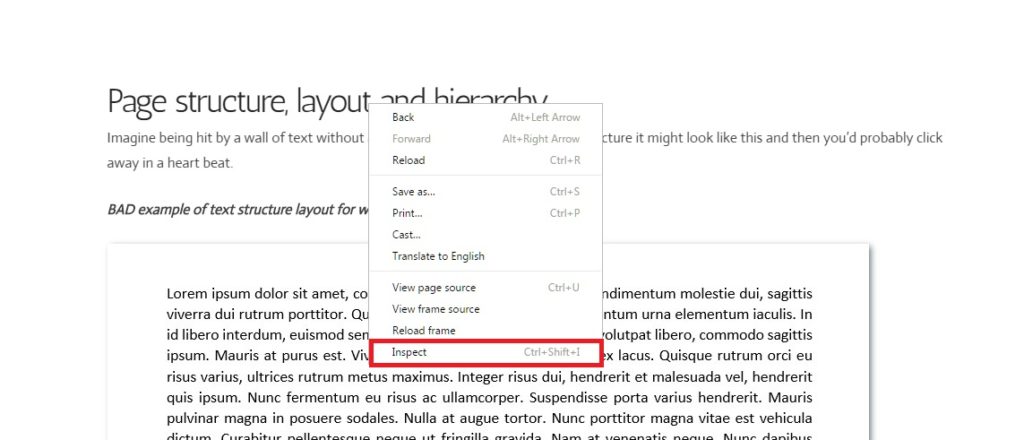 Then in the window that pops up you should see your HTML highlighted > you can then see if what H Tag it's using > go through your page and check each of them to ensure it's a logical order.

Tip:
If you fancy learning some very basic HTML then head over here for a great & free HTML for beginners guide. It'll show you how to add all the relevant Header tags to your website pages, or you can pester your web developer again.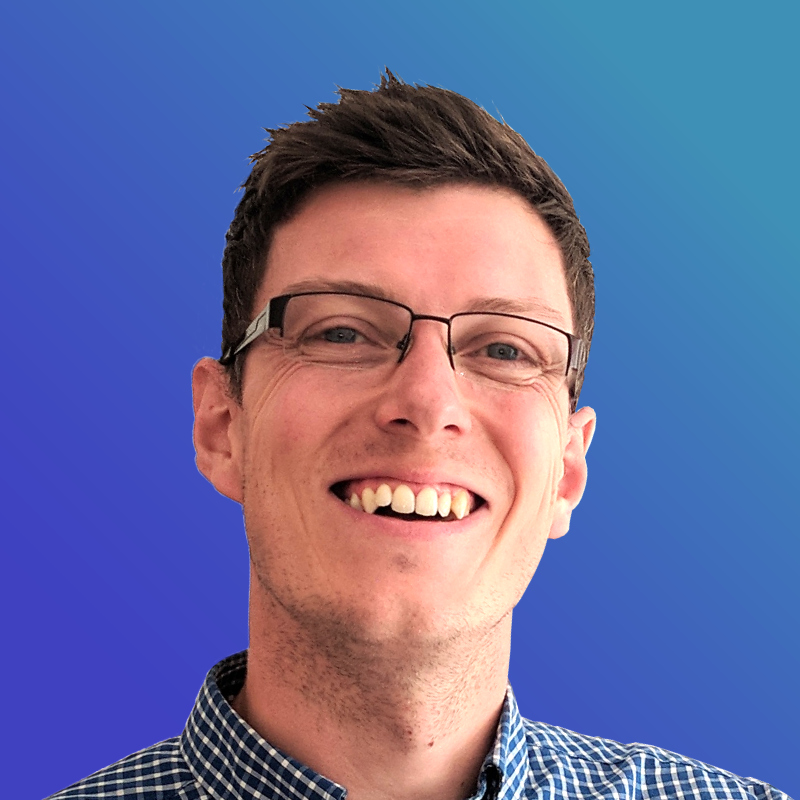 What Is Holding Your Site Back?
Your free report includes a breakdown of opportunities to improve your website's SEO performance with actionable advice.
3. Images and descriptions that work
Imagine you're looking for ideas for a floral display (I can't seem to drop the gardening analogy, please help) you might go to a Google search for floral display ideas and then start browsing the images tab. All of these images will have been pulled from sites across the web. This search can be a great way of getting visitors to your site. Generally you'll find that nearly all of these images will have a relevant file name and an alt tag that makes sense. Alt tags are an abbreviation for 'alternative text' which can be used to describe an image for people using screen readers (vision impaired) or for those times when your site is broken and the image won't load (please fix this asap if it's happening to yours)

Here's a good and bad example of image filenames and alt tags
A bad image for search engines (and humans)
Filename – DSC133698.JPG
Alt tag – garden services 1
Not only does this not mean anything but it also doesn't provide any real info about what the picture is and why it's relevant to your page. It's also less likely to show up in image search results.
A good image for Search engines (and humans)
Filename – tulip-and-daffodil-garden-display.jpg
Alt tag – A beautiful tulip and daffodil display in a sunny Kentish garden
Not only is this descriptive, you've also got some un-forced keywords as well as some great usability too (woo hoo)
TIP:
Optimise your image filesize for a faster load time. The bigger the file, the longer it take to load. Try to find a balance though. Low resolution images look horrible, but large ones take forever to load so a good compromise between image size and quality really helps.
Here's an example of the Be Fair logo in both High Resolution & Low Resolution – I trust you can see the difference here?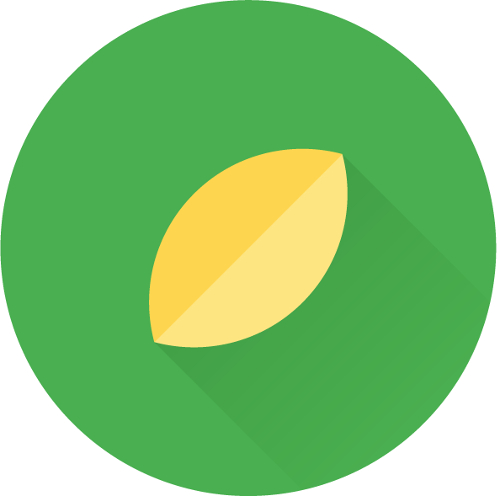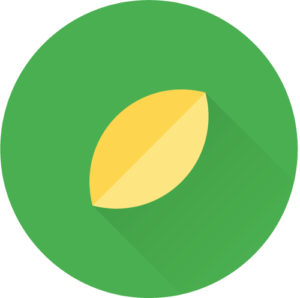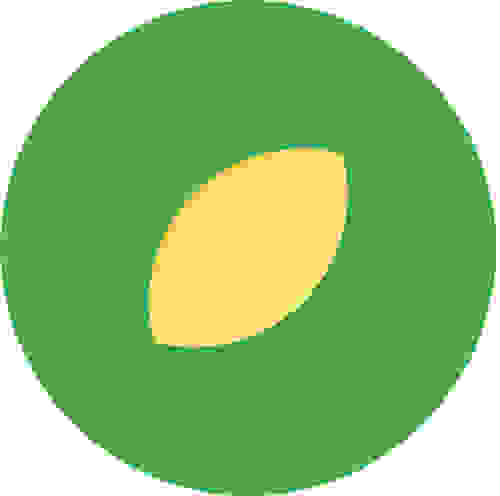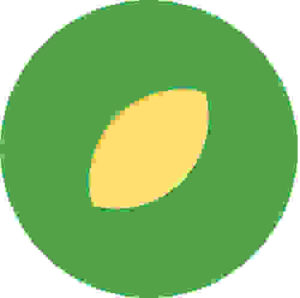 By playing about with your image compression settings you should be able to strike a good balance between quality and load time.
I use RIOT – The Radical Image Optimisation Tool For image optimisation and it works great for batches of images too.
---
4. Links that make sense
No one likes to be misdirected. Most people don't like to just follow directions blindly, they usually prefer a bit of an indication as to where they are going. Site links are no different. Similar to image alt tags, links can also have alternative (descriptive text) you wouldn't normally see this text unless you hovered over it or you're using a screen reader.
Think about it …
Scary Links
Click here – What, why? Where am I going, please give me some reassurance that I'm not going to end up on the dark side of the internet again
Hover text – Click here (hmm, might give this one a miss)
Or…
Friendly Links
Great article on SEO for beginners – Oh right, I've been reading about SEO here and this article is amazing so I'm inclined to trust this link and where it goes.
Hover text – visit the SEO for beginners website here (ahh right the hover text has added further reassurance too, nice one, thanks).
Search engines do their best to give humans the best result and therefore they care about usability more than you'd think. Properly tagging your links will help with your website's search engine performance here as well as your visitors usability too.
For a free lesson on how to write HTML links that work, check out this rather handy HTML link guide
---
5. Relevant content that answers your audience's questions
Think about it this way, search engines like Google keep people coming back to them again and again because they consistently return the best answer to your questions. They also look at how to improve these answers all the time. If they suddenly started returning web results that were stuffed full of repetitive keywords, lacked any structure, had dubious links and deceptive imagery – would people keep coming back to them for answers? Sure you may think it's a blip with their new artificial intelligence algorithm 'Rankbrain' but after a while, you'll go elsewhere for your answers and that is very bad for Google's bottom line, they are an advertising platform afterall.
If your website/content is lacking in depth, factually incorrect or only partly answers a question then why would you expect your site to be chosen as the best result for the query? Humans first, technical's second remember.
A few pointers on what makes great web page/article or content
It's detailed and informative
Your content maintains a consistent theme
It answers the query thoroughly
It's well written (for humans)
It has a great structure that is easy to read
It contains other relevant media to back it up
Your images & links are tagged effectively
The page is mobile responsive (easy to read on all devices)
You have great, relevant page titles and descriptions
The article refers to other useful resources
You don't use terrible, invasive pop-ups (who likes those anyway?)
The article is easy to share on social media
Finally, it's written to genuinely help your audience
Now this can apply to any service, business or individual. Even if you're an emergency plumber who wants people to act quickly, you can still make a page that answers the most asked questions that your typical customer might have before they decide to call. But just think about what's the best way to help people who are panicked about their bathroom flooding at 3.15 in the morning and write for people in that "this is an emergency, mindset"
---
6. CTA's and the mighty call to action – Trumpets at the ready
You may have heard about conversions (a conversion would be classed as a call, email, purchase, signup etc) before, you may have heard they are the be all and end all of marketing, but generally a Call To Action is the end goal you'd like your site visitor to take after landing on your page. You need to make sure you've genuinely helped them first before going in for the sell at the end though so avoid any type of forceful/invasive pop-ups or manipulatively worded text to gain a result. It's just sucky and will be bad for you in the long run so just keep it genuine and prompt.
You'll find that a good Call To Action can help you get more conversions on your site which is great for your business but also helps with your search engine performance too. Again, if search engines feel that your site is helping people get to their end goal and helping them achieve their desired result then it's more likely to return your page over another.
Here's an actual CTA for you – Go ahead and try it out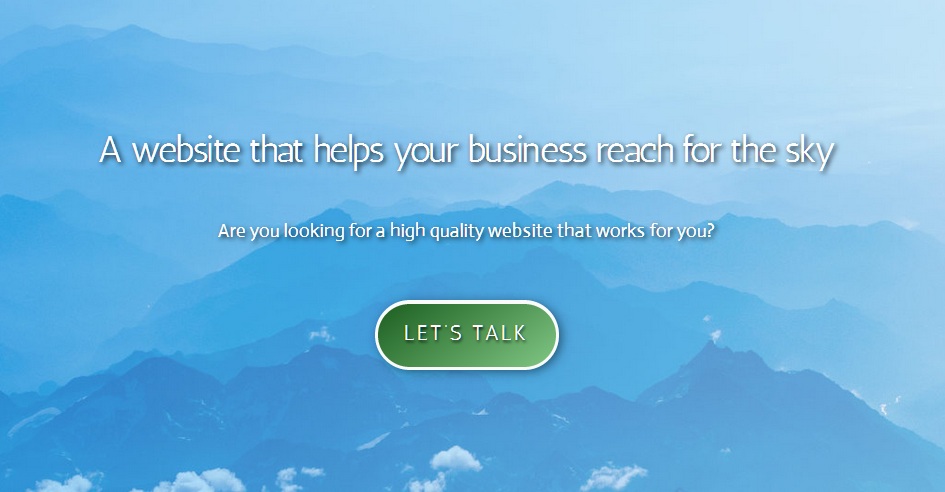 ---
7. Mobile responsive websites are important for Search Engine Optimisation too
Remember what I said earlier about being useful, helpful and putting the humans first? A website that looks great and is easy to use on any device is most definitely putting humans first. It's why Google have made it important in their Search Algorithms too.
Think about it, when was the last time you landed on a website where you had to pinch and zoom to see the content on your smartphone? Trying to press menu buttons, links or scrolling left and right to read small, illegible text just isn't fun for anybody and it wouldn't surprise me if you left that unresponsive page pretty quickly, am I right?
If your site isn't optimised for mobile devices right now then I'd seriously consider getting that fixed asap. I develop websites with WordPress because it is a natively responsive platform which has tonnes of great ways to make your website look great on any device, from your smart TV to your smart phone.
Here's a great animated example of responsive design in all its different formats
Click on the 'Next Tab' to see the different types
Did you know that people searching on mobile devices now surpasses those searching on desktop computers? When you think about it, searching on your smartphone has become so hardwired into us that we literally don't even realise we're doing it anymore, so you can see why more searches are conducted on smartphones and will only keep increasing as the years go by. To further drive this home, Google have announced that they are now prioritising mobile search results over desktop searches, which inevitably means desktops are being phased out.
---
8. Secure sites are happy sites. SSL and other ways to keep your visitors safe online.
It doesn't really matter what type of site you operate nowadays, there's no way around it, site security is important. You may or may not notice, but a lot of the popular sites have a little green padlock next to the address bar and the old HTTP will be replaced with an HTTPS instead.

Example of a valid SSL Certificate on Be Fair Marketing Co Website

This means that your computer is connected securely to the server hosting the website you are looking at. This means that the data is encrypted and stops any nasty hackers from intercepting your private info such as credit cards, emails, phone numbers and other personal info.
In fact, SSL is so important nowadays that Be Fair Marketing Co include it as standard with every website project
Ensuring your website is secure and you have a proper SSL certificate correctly implemented on your site shows that you care about your site visitors personal data and that you want to keep them safe whilst they browse your site.
Having your site SSL encrypted will give you a small boost for your search engine rankings too as all the main search engines consider a secure site a bonus and are getting more and more vigilant about warning people of insecure connections.
If you're running an e-commerce store or taking payments online it is an absolute priority to get your site secured asap. Even if you're not taking payments on your site it's highly recommended that you put your site visitors first and show you care about their privacy, they'll thank you for it, I promise.
TIP:
There are some technical issues that need to be considered when changing over to a secure connection so @webensure you ask your web developer these things before they start. Any developer worth their salt will respect you for it, rather than get insulted that you asked.
The type of certificate required for your site
That they setup permanent redirects from the old unsecure links to the new secure links
That they ensure all links, images, media throughout your entire site are accessed over HTTPS
That there are no mixed content warnings in any of your pages
Ensure your payment page is fully secured
That they resubmit your new HTTPS version of your site to Google Search Console to be reindexed
Finally, that any certificates you purchase are auto renewed. You don't want them to expire unexpectedly
Final words
Search engine optimisation can sometimes leave you scratching your head and wondering why they're all on page 1 and you're not, don't worry you're not alone in this fight. If you've read this far then it shows you're either wanting to achieve better results or you're invested in making it work for you. These are only a few tips to help you get started on your journeys to page 1 and in future post's I'll cover different SEO techniques you can work on to keep your rankings moving in the right direction. If you feel like it's all a bit much to take on but you see the value in it, then feel free to get in touch and discuss how I can help you improve your search engine optimisation and grow your website with integrity. Visit this page for more info on my SEO services. Why not take up the opportunity for a free website audit at the same time?
---
Get Your Free Website SEO Grade
Your free report includes a breakdown of opportunities to improve your website's SEO performance with actionable advice.